Blue Bayou
Minor Post -Jam Balance Tweaks
---
First and foremost, thank you to everyone who played, rated, and provided feedback for Blue Bayou and a big congratulations to everyone else who submitted a game for GBJAM-8. We're overjoyed to have placed #1 in the "Fun" category and 8th Overall: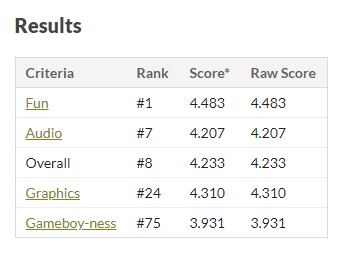 Thank You!
This is just a small post-jam balance update to reign in the health a bit for the first and second bosses, Ory and Prince Ribet. The length of these fights was a common piece of feedback we received during the ratings period, so we thought we could address these rather simply.

Thanks again to everyone who gave Blue Bayou a try!
Files
gbjam_postjam.zip
Play in browser
Sep 14, 2020